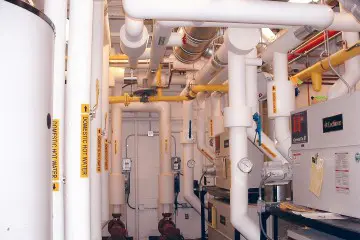 Everett Mechanical Corporation installs all types of plumbing systems to include, governmental, commercial, hospitals, education facilities, churches and industrial buildings. Properly designed and installed plumbing systems are critical to the health and safety of a building's occupants.
Our plumbing services also includes the installation of plumbing fixtures, waste and vent, storm and rain leader, domestic water and hot water re circulation, medical gas, fuel oil and natural gas systems.
At Everett Mechanical Corporation, we have the ability to pre-fabricate many of the piping systems we install. Combined with fully integrated software programs and procedures, we are able to utilize cost control estimating, BIM and or 3D drafting and prefabrication services to enhance the quality of our work with our associated Engineering team which enable us to meet or exceed our customers' construction schedule.